Your messaging is the foundation of all your marketing. It's important to make sure that how you describe what you offer will be credible and convincing to differentiate your company from your competitors to get people to buy, try or want to learn more.
Messaging needs to drive preference to purchase!
Here's our advice on messaging.
The very best brands make people feel good.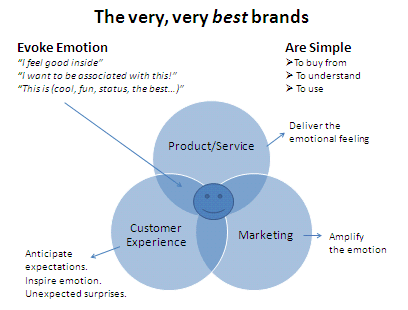 They evoke an emotional response.
They attract followers and fans like a great leader.
They focus on the intersection of the product/service, the customer experience (before and after a sale), and use marketing to amplify the emotion.
The "sweet spot" is when marketing, the product/service and the customer experience all work together to evoke the same emotional response. Apple does that. Nike does that. Tide detergent does that. Your business should be aiming for this!
Yes, you need the rational "words that work" but you want to go beyond that to stand for and evoke an emotional response. That's true even for laundry detergent and B2B products/services. Why? Because people are people and all the latest research on how the brain works and why people buy is based on an emotion, which is then "justified" by the person with a rational "why I buy/like this product/service/company."
Here's an example of how a real estate agent differentiates themselves and answers the prospective buyer's question: Why choose this agent?
Buyers are back! The time to list is NOW… and no Agent will work harder to SELL your home!"
They tell you why. They are conveying that they know buyers, they know the market and they are saying they are the best at something.
What can you say that will differentiate you as "the best" in what you are selling?
Tom Searcy at Hunt Big Sales writes in his weekly tips:
If you asked your kids to tell you what they tell their friends that you sell or do, what would they say? If your kids are middle school or high-school age, the answers are a great indicator of how clear or unclear your value proposition is… There are often participants in the sales process who don't know a lot about what you do. These are the people who can kill a deal when you are not in the room. If you want to know how good your messaging is, ask 9-18 year old kids:

1. What kinds of people or companies do you think that mommy/daddy helps?
2. How do we help them?
3. Why do you think they have us help them instead of someone else?
The answers will be illuminating. If your message is clear for them, then it will be clear for anyone you are selling too. If not, you might think about working on it."
Know this: In this age of social media and skepticism about marketing, to succeed a company can't just go to market with great marketing without also having a great product/service and customer experience (before and after the purchase). Look at J.C. Penney. Ron Johnson came in from Target and Apple to run JCP. He spent millions of dollars on marketing. He didn't change the products nor customer experience in the stores. The marketing alone didn't work.
How to Generate Messaging / Positioning – Ideas
The typical way to create messaging for a product or company is to generate ideas yourself and then use what you think will work best. Typically that doesn't work well.
The other option is to hire an agency to do this for you. Typically ad agencies do this as part of creating an advertising/or marketing campaign.
Know this: If you have an agency, you want them to develop your messaging because then they'll own it and use it. If you do the messaging work yourself or have someone else do it for you, it may be considered "not invented here" and they will want to do it again themselves or they'll have have another idea they want to use. Ad agencies may be rather "passive aggressive" about this and not directly tell you that they don't think your messaging is effective. Ad agencies want to create great advertising, and messaging should be their core competency for the foundation of any campaign they develop. They often have planners who will manage the messaging research and work with their internal creative and account teams.
If you're doing messaging yourself or hiring someone to do it for you, here's what's involved to develop effective messaging.
Brainstorm messaging / positioning ideas – we explain how in this article. You can do this yourself or hire an expert to do this "ideation" work for you. Focus on emotional and rational "why buy" and "why try" messaging.
Test initial messaging concepts with prospective customers (your target audience).
Analyze the research findings and decide what messaging to use.
Step #1: Brainstorming messaging options to test
Some marketing firms and agencies will refer to this as "ideation." That means brainstorming to generate ideas. Some firms specialize in drawing out the emotional response of people to brand statements, advertising concepts, new product concepts.
You can do this brainstorming work yourself or hire a marketing consultant to do this for you. An ad agency or "branding firm" will also do this but they'll typically charge 10 times the price and get about the same results that a marketing consultant with expertise in messaging, market research and your industry will get.
Brainstorming rational "why buy" and "why try" messaging
1. First do a messaging audit of what you already say about your company, product or service in all your marketing materials (web site, sales presentations, brochures, press releases, ads, etc.). That involves collecting everything and putting it up on a wall or somewhere you can see everything a prospective customer or customer might see, read or hear about your company or product/service.
2. Ask sales reps to tell you verbally how they describe the product/service/company offering to prospects. Write exactly what they say down. Ask them what they say to people as opening lines and what words and lines resonate the most with people they talk to. Every day sales people are doing messaging research. They try different ways to appeal to people to get them to return phone calls and buy. Learn from them!
3. Do keyword research to learn what words people are searching for.
An easy and fast way to check if a word is not immediately understood by most people is to use Google's keyword tool and put in the words "what is" before the term you are considering using.
For example, a search for "What is the cloud?" (as in cloud computing, a term many companies are using in their messaging) in Google's keyword tool shows that 6,120,000 people in the United States don't understand that term and so they're asking Google's search engine for help. That term "cloud computing" may be relevant to experienced buyers who are searching for this but it wouldn't be effective to use without an explanation in "regular English" for a prospective customer.
4. Which of the messages you've used in the past do you want to get customer input on? List those. What offers worked particularly well? List those too.
5. Do an audit of the messages your competitors use. List the messages they use for which you'd like input from customers/prospects. Does their message include a great offer? List that.
6. Brainstorm and identify the new messaging options you'd like to put in front of a panel of customers for their input.
Here are some examples of how well-known companies "message" what they do – Facebook, Apple Stores, Twitter, and Coca-Cola Company.
TIP: Even these big-time brands with big-time agencies have long messaging statements with jargon. Most people describe a company in one sentence or with just a few adjectives. That's real-life messaging. That's what you should be aiming for: real words used by real people that are really believable.
7. Monitor social media comments. Social media "monitoring" involves listening, learning and analyzing what people share and say about companies, products, brands, competitors on sites like Facebook, Yelp, MySpace, LinkedIn, Craigslist, YouTube, Twitter and all the hundreds of sites where people can post reviews and comments and participate in online forums.
When you are brainstorming messaging, it's very helpful to see what words people use (and what they don't) on social media related to your product/service and category.
Doing this will also help you understand the emotional response.
Social Media Monitoring How-to Guide
8. You can also use ideation research to help generate ideas for messaging
There are a number of techniques you can use to help gather input and ideas from customers and prospects. Focus groups and 1:1 interviews are commonly used. A better option we've found is online research that's called "qualy-quant", meaning it's a combination of qualitative (1:1 interview) and quantitative (large enough sample of people to be statistically projectable).
From our experience it's better to do research after you have some ideas to share since most research respondents will be better evaluators and editors, than developers of messaging.
It is important with any messaging research you conduct to start with an open-end question like "How would you explain this?" And then after showing different options for people to evaluate to end with a similar question to get the person to generate a better idea. You should ask something like, "Now that you've seen these options, how would you explain this (product/service/company) to someone else? What words would you use to describe this (product/service/company)?"
You also want to learn what words people understand and what words/terms they don't. And for any industry "jargon", it's wise to ask research participants, "What do you think (word/term) means?" If you're conducting this research in any type of a group setting, ask each person to write down their answer individually so one person who knows the answer doesn't skew the results.
TIP: Focus on understanding the emotional response to the messaging. Even when someone says "I like it" there's a vast difference in emotion as conveyed by these photos of "happy people" isn't there? Get someone to choose the photo of how they feel about the messaging to really understand how effective it is.
9. Pay several experts to write the messaging and then test that
Another option is to pay a handful of people you consider experts in your industry to describe your product/service/company. You may have to pay them $300 to $1,000 for two hours of their time but that's a lot less expensive than paying an ad agency or branding firm to do this. You'll want to ask people like industry bloggers, journalists and marketing consultants to do this. You'll need to give them your best explanation(s) of your product/service/company and then ask for them to recommend options for how they would explain/describe this in "laymen's terms" or in an industry article or blog post. If you ask several people to do this, you'll then have several messaging statements to test.
10. Go visual. Hire a person or firm that specializes in "infographics"
Many people are "visual learners" and they may understand what your product/service/company does most quickly and clearly with some type of flowchart or visual. That's called an "infographic" and there are lots of freelancers and agencies that specialize in this area of marketing.
An infographic may complement your messaging or positioning statement. You will need words to work alone for press releases and search advertising where you can't use a visual.
The difference between messaging, copy and taglines
Messaging includes the emotional and rational benefits conveyed as an idea that will convince someone to become interested and buy. It shouldn't change over time very much. Some examples: Volvo = reliable, safe cars to drive. WebMD is a website that has credible medical advice if you or someone you love gets sick. Jamba Juice has healthy fruit smoothies that taste great.
Copy is how the message is creatively presented in your marketing. It's meant to be catchy. Ad headlines, brochure headlines and website headlines should all emphasize the same benefits but can use different ways to convey that idea. Think of it like your marketing materials are all different "salespeople" who are all selling for you but using their own words to convey the same messaging idea and benefits.
Taglines go along with your logo on all marketing materials. Taglines reinforce and explain your brand and shouldn't change frequently.
From our experience: Companies spend way too much time, effort and money on determining their tagline. Most people can only remember the taglines for companies that spend millions of dollars on advertising and come up a tagline that is really memorable. What tagline is McDonald's using now? What taglines do you remember? You probably remember an old tagline. If you can't remember McDonald's tagline with all their millions of dollars spent in marketing, how can you expect anyone to remember a tagline for a smaller company?
Clients should focus on nailing the messaging. Agencies and creative people should focus on copy. That's their expertise: the creative articulation of the client's messages.
Jingles used to be very popular in advertising and aren't so much used anymore. Creating a great jingle (song that includes your brand name and benefit) may be an effective way to gain a competitive edge for your company if you use radio and TV advertising. Can you sing the Toys R Us jingle? The Dr. Pepper jingle? The Midwest home improvement store Menard's jingle?
This article may be helpful:
Know this: It's very hard to "get to the essence" of what will be the most compelling message(s) to stand for. Research will help clarify this. And it will help unify people within your company or non-profit on what matters most to customers, prospects, and even employees.
From our experience: The best messaging comes from using real words that real customers use to describe a product, service or company. Words like "reliable workhorse" to describe a laser printer instead of "high speed laser printing system that's quiet, compact and unobtrusive, affordably priced, networkable and fast." Get rid of all the industry and company jargon.
Step #2: Research to engage prospective customers in helping you evaluate and improve your messaging
There are several different ways you can tackle messaging research from a cost perspective – good/better/best – depending on what you want to invest to get it right and understand all the options. What's important is not just to get "a winner" but to understand "why" one messaging statement worked better than another and to understand what didn't work and why. That will help you improve your messaging.
You can do this in a one-step, two-step or three-step process depending on how thorough you want to be and how much time and money you want to invest.
Tips for messaging research
Don't say your company or product/service name until the end of the interview. This will give you more objective and actionable findings.
Always start by getting the respondents advice and opinions before sharing any ideas you have.
Include a lot of open-ended questions (vs. multiple choice). These are questions like, "Why do you buy (whatever category of product/service you are selling)?" and "What do you look for when deciding what company/brand to choose for (category of product/service you are selling)?"
Before you move on to any multiple choice questions where someone will be evaluating your messaging options, ask them, "Any other ideas? Advice?" Keep asking this until they say "no." You want to exhaust their ideas before sharing yours.
Thank them for their ideas and then say, "What do you think of this…" And share different messaging options for them to respond to.
Rotate the options for them to respond to so no message gets "first order preference" every time. That will skew results.
Ask them: What does this mean to you? What do you like? Anything that isn't clear? Any words you wouldn't use? Words you don't understand? Is this believable? Important? How would you make this better?
Share messaging your competitors use and ask them what they think of it using the same set of questions so you can compare the results.
Get them to rate and rank how persuasive and compelling messaging ideas are overall, compared to each other and compared to competitors. You want to know: Is it believable? Credible?
Differentiating? Persuasive? Memorable? Something they'd act on?
Ask them at the end, "Now that you've seen all these options, what would you recommend we say?"
Thank them and ask one last question, "Any other advice?"
Step #3: Analyze the results and decide what messaging to use to describe your product/service/company
After completing messaging research it's helpful to create lists of:
Words that work with your prospects. And words that work with your customers. These are words that customers/prospects use and that are authentic and real (not "marketing speak"). These can be used for writing really compelling marketing copy and taglines. The words may be different for customers (who understand the product/service category) than prospects.
Words or jargon not to use. This list is helpful to have handy when you are reviewing any marketing. Your ads, brochures, sales presentations, website, press releases, etc. should be checked to make sure they don't use these words. You want your marketing to be like the equivalent of a physician who has a good "bedside manner" and doesn't use words that most people don't understand.
Key benefits to customers and prospects
Insights about the customers' buying process
You'll use this messaging research to brief the agency or freelancers who are creating your advertising and marketing copy.
What not to do when planning and conducting messaging research
Don't review only taglines and headlines and miss the underlying need to identify the key benefits and messages that will be most compelling and long-standing.
Don't bias the research by conveying too early during the interview who the research is for. It's critical that you first obtain their perspective on your company, brand, product and category.
Don't focus on evaluative research (people judging what they like best) before doing a thorough job brainstorming options. If you ask people what of these three they like best, they will tell you. But you will not know if they really didn't like any of these ideas. Or if they had a better idea. Or if they liked a little bit from option #1 and #3 so are recommending some type of hybrid.
Some options to consider:
Do you want to test the messaging along with a logo and visual branding elements? Messaging is one part of branding. It's generally used in combination with a logo and other type of graphic images (photography, illustrations) that the marketing industry may refer to as "visual branding."
Do you want to pay to have an "infographic" created to go along with your messaging?
If you have a new product/service that is establishing a new "category" (think hybrid cars), you may want to invest in additional research to give you context about how prospective customers perceive the new category you are trying to establish.
How thorough do you need the results of your messaging research to be?
To be absolutely sure you are using the most compelling messaging, you can re-test the best ideas from the first round of market research. You'll want to choose a quantitative messaging research technique that is statistically relevant to evaluate in-market effectiveness of your messaging. You don't want to test one idea only because then you won't have anything to compare it to. You generally want to test 1-3 messaging statements or "mood boards" with messaging along with a logo and key brand visuals.
The research methods used for testing messaging options are often the same type of techniques used in ad testing.
Want a lower cost testing option? You can use low-cost search advertising and tailored landing pages to test different messaging. That's a fast and inexpensive way to know what people will click on and what messaging works best to convert people who click to people who want to learn more.