How to position yourself
Positioning is hard to do, especially for yourself.
Learn how and get practical tips for differentiating yourself from others and establishing a compelling reason for why clients, patients or customers should choose and hire you.
Positioning is defining what you want to stand for. It's what you want your reputation to be.
Positioning is how your customers, the media and the marketplace fill in the blank to this question: (your name) is ______ and ______. It's how people classify a person in their mind. Generally it's just one or two adjectives.
Your reputation in the market is determined by the beliefs customers, prospects, and the media hold. Your positioning is how you want to be perceived and remembered.
It's very hard to change a reputation once it's established in someone's mind. Be very intentional and careful about proactively and reactively managing your brand reputation.
Positioning yourself
What are people saying about you?
Measure your brand buzz by using tools (some free and others for a fee) to monitor what people are saying about you online in public forums.
Positioning yourself is the same thing as personal branding
Use personal branding or positioning to brand yourself as a person.
Positioning statements
Writing a positioning statement helps clarify your goals for positioning.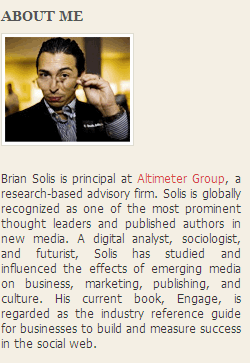 Here's an example of a how a social media expert and author positions himself.
For us, the description (words) are effective but the photo doesn't align as well as it could with his brand positioning as being an expert. He's chosen a photo that has "stopping power" (it's different). There are pros and cons to doing that.
You need a great statement and photo to use for public speaking, on your website and in all your marketing. This personal positioning is the foundation of all your sales and marketing activities.
TIP: Watch for the use of industry and company jargon. These are words that you and people knowledgeable with the industry may understand but prospects will not understand.
Know this: If you are positioning yourself to professionals in your industry (for instance, to other physicians or attorneys) as well as to consumers/patients, you may want to create two positioning statements. One that is compelling to people in the industry and others for the general public. They should be complementary but the one to the professional audience should include industry jargon and language that identifies you as an insider.
Perfecting your elevator pitch
This is crucial to master both in a reactive way when people ask you, "So, what do you do?" and also in a proactive way so that you can clearly and articulately introduce yourself to people you meet at networking events.
Learn how to Perfect Your Elevator Pitch
From our experience: It is very hard to position yourself. Think how long it takes to put together an incredible one-page resume. It may accelerate the process (and reduce the angst) by hiring a freelancer who specializes in PR. They should be someone who knows your industry and type of business so you'll benefit from that foundational knowledge. Investing in a few hours consulting with an expert will pay off. You'll use this in all your marketing – the bio on your website, your bio for industry speeches, in networking and nurturing professional referrals.